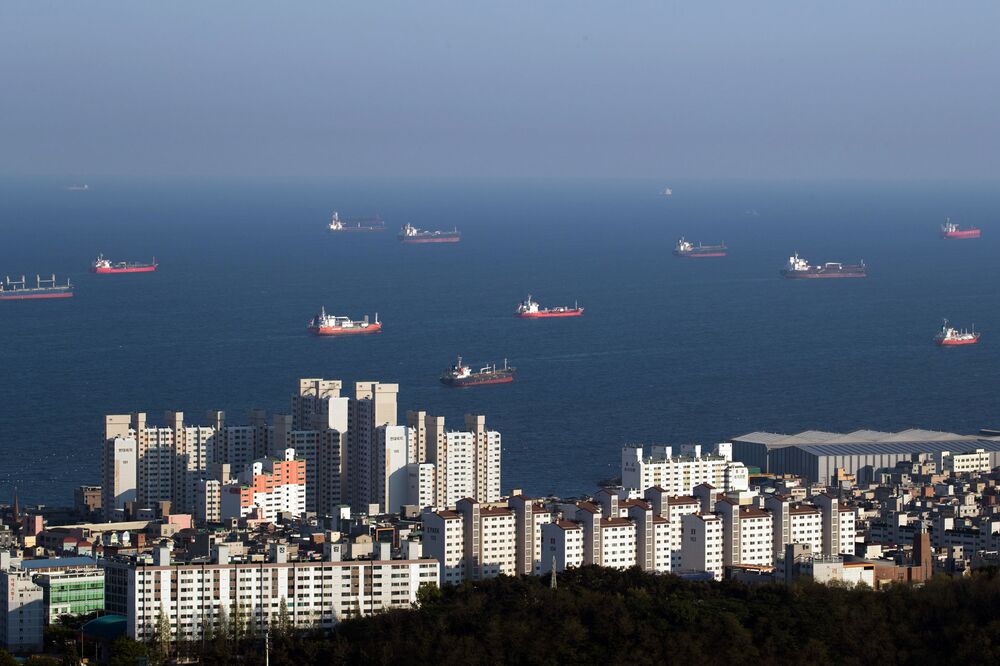 by Bruce Einhorn, Kanga Kong and Kyunghee Park
The future of LG Display Co. is rolling off a production line in Paju, a small city about 20 miles north of Seoul. There, the company has built the world's premier manufacturing center for large panels using organic light-emitting diodes, an advanced technology that offers a better picture than a liquid crystal display. In late 2015 the LG Electronics Inc. affiliate announced plans to spend more than 10 trillion won ($8.9 billion) on OLED production in Paju. There's just one problem: location. The plant is only a 15-minute drive from the Demilitarized Zone separating the two Koreas.
That proximity puts Paju's 442,000 inhabitants and LG's very expensive factory within easy range of Kim Jong Un's artillery. "We of course get affected psychologically when more media reports hint there could be provocation by the North," says Han Sung-hee, the city's team leader for civil defense. Paju has 149 shelters equipped with gas masks, cooking facilities, and heating and cooling systems; the largest can accommodate 200 people. "They're temporary shelters where people can hide for 24 to 48 hours," Han says. They're designed "for partial war, not an all-out war."
The crisis over North Korea's nuclear program highlights just how vulnerable South Korea's most important companies are to an attack from Pyongyang. Two of South Korea's most prominent drugmakers, Samsung BioLogics Co. and Celltrion Inc., are among the tenants in a special economic zone about 25 miles from the frontier. A Kia Motors Corp. plant that's about the same distance from the border employs 5,200 people, or 15 percent of the automaker's workforce.
Along with Seoul, which has a population of 10 million, those commercial sites could quickly become targets for the short- and intermediate-range rockets the regime in Pyongyang has tested in recent years. "We know that North Korea's forces are on a hair trigger for quick offensive action against South Korea," says John Blaxland, professor and acting head of the Strategic and Defence Studies Centre at the Coral Bell School of Asia Pacific Affairs at Australian National University. Strikes against Seoul and other major cities "would have a catastrophic effect," Blaxland says. They would be felt far beyond South Korea, which supplies customers with finished products such as ships and smartphones and vital components like displays and semiconductors.
The country's chipmakers produce almost two-thirds of the world's memory semiconductors, thanks to the dominant role of SK Hynix and Samsung Electronics Co. Samsung also produces chips for customers like Qualcomm Inc., the world's largest maker of semiconductors for phones. "If Korea is hit by a missile," Soo Kyoum Kim, a vice president with IDC Research Inc., said in an email, "all electronics production will stop."
About 12 percent of Apple Inc.'s suppliers are from South Korea, according to data on supply chains Bloomberg compiles. The U.S. company is LG Display's biggest customer and may become even more reliant on Korean exports with the introduction of the iPhone 8, at least one version of which will likely have an OLED screen. Korean factories turn out about 40 percent of the world's LCDs and almost all of its OLEDs, according to Alberto Moel, an analyst with Sanford C. Bernstein & Co. For high-end displays, he says, "it's basically them or nothing." The analyst pegs the cost of replacing the display manufacturing capacity of LG and its main rival, Samsung Electronics, at about $50 billion.
Tech companies wouldn't be the only ones left scrambling. South Korea is home to the world's three largest shipbuilders: Daewoo Shipbuilding & Marine Engineering, Hyundai Heavy Industries, and Samsung Heavy Industries. Because Daewoo and Hyundai build warships and submarines for the South Korean military, their shipyards would likely be among the first targets of North Korean missiles. The companies are also the world's top suppliers of the tankers that carry liquefied natural gas, having delivered 191 of the 229 vessels launched since 2008. With LNG production skyrocketing, the world may need about 180 more of the tankers by 2030, according to Hana Financial Investment in Seoul.
Even South Korean multinationals such as Hyundai Motor Co. and steelmaker Posco, which have factories near the southern end of the Korean Peninsula, far from the DMZ, would have difficulty exporting in the event of war, which would make shipping difficult or impossible. "Cargo vessels would be wary about sailing if there were missiles flying," says Dennis Halpin, a visiting scholar at the U.S.-Korea Institute of Johns Hopkins University's Paul H. Nitze School of Advanced International Studies. "The Pacific would be shut down as a highway for global trade." Nine of the world's 10 busiest container ports, including South Korea's Busan (No. 6), are in Asia.
Several generations of South Koreans have learned to live with the threat of an attack from the north. Emergency drills, once staged several times a year, now take place only annually. If the sides manage to resolve this latest crisis peacefully, the economic impact won't be severe, says Vaninder Singh, an economist with NatWest Markets in Singapore. "We have had these kind of issues crop up in the past with some degree of regularity, and businesses and consumers know how to handle this," he says. "But if things get out of hand, then all bets are off."