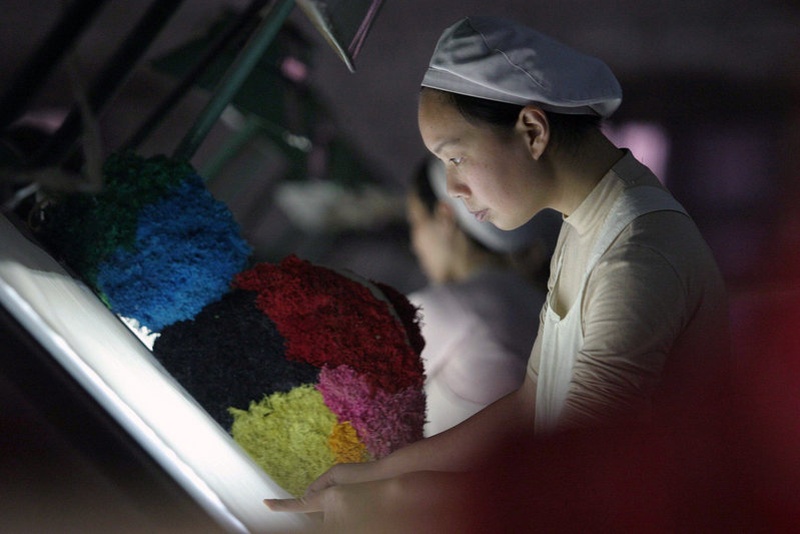 By Rajesh Kumar Singh
NEW DELHI (Reuters) – Factories across much of Asia got off to a solid start in the second quarter, buoyed by strong global demand, particularly for hi-tech gadgets which are leading a sizzling rally in electronics.
Though China's manufacturing growth eased more than expected in April, business still improved and there were no hints of a sharp loss of momentum despite risks from a growing regulatory crackdown and fresh measures to cool its heated housing market.
Indeed, analysts chalked up much of the softening in China to recent falls in commodities prices, noting its official factory activity gauge at the weekend was still not far from a near five-year high.
Globally, continued strength in Asia and expectations for upbeat PMI readings from Europe later on Tuesday could help offset a recent soft patch in the U.S. economy, though many economists believe that weakness will be temporary.
"We expect global growth to pick up in the second quarter," said Krystal Tan, Asia economist at Capital Economics in Singapore.
"Firmer global growth will lend strength to the ongoing recovery in Asian manufacturing."
After six years of disappointing growth, the world economy is gaining momentum, fueled by a cyclical recovery in manufacturing and buoyant financial markets.
A multi-year trade recession for Asia's exporters has ended as global demand revives, though the outlook is still being clouded by worries about growing U.S. protectionism as the new Trump administration flexes its muscles.
The spring in the air prompted the International Monetary Fund last month to bump up its 2017 global growth forecast to 3.5 percent from 3.4 percent in January.
The Asian factory surveys pointed to subsiding inflationary pressures as well as continued economic recovery, giving the region's central banks scope to keep policy on hold as they wait for the U.S. Federal Reserve's next move. It is expected to raise rates again next month.
Australia's central bank held rates steady for a ninth straight month on Tuesday as it sought to balance the risk of busting a property bubble against sluggish wage growth. Its next move is expected to be a rate rise next year.
Even China has started gingerly tightening policy and clamping down on some types of financing to contain the risks from years of debt-fueled stimulus, though analysts expect policymakers to move cautiously to avoid hurting growth and rocking the boat ahead of a major leadership transition later this year.
President Xi Jinping made a rare speech last week on financial stability, calling for increased efforts to ward off systemic risks.
GRADUAL SLOWING SEEN FOR CHINA
While the expansions in China's factory and service sectors slowed more than expected, analysts were not alarmed, noting that economic growth had been expected to slowly moderate after a surprisingly strong start to the year.
Betty Wang, senior China economist at ANZ, said some loss of steam in the monthly surveys does not portend a growing risk of a hard landing, noting the government remains supportive of ample credit for the real economy despite a crackdown in certain sectors such as real estate, riskier forms of short-term lending and shadow banking.
China's official Purchasing Managers' Index (PMI) released at the weekend fell to a six-month low of 51.2 in April from 51.8 in March, but pointed to expansion in the factory sector for the ninth straight month.
The China Caixin/Markit PMI on Tuesday (PMI) fell to 50.3 from March's 51.2. The Caixin survey focuses more on small and mid-sized firms, which have been under more stress than their larger, state-owned peers.
Economists largely attributed the softening in both surveys to weaker prices for iron ore and other industrial commodities and to signs of moderation in China's housing market after a flurry of steps to curb speculation.
Wang at ANZ said many companies had "too strong" a bullish view when global commodity prices began rallying late last year, but said that trend is now changing, making firms more cautious about spending.
ELECTRONICS EXPORTS
Growth in electronics exports has been one of the highlights of Asia's export recovery this year, boosting profits for companies tied into supply chains such as Apple Inc's, which is gearing up for the launch of the iPhone 8 later this year.
China, Japan, South Korea, Taiwan and Singapore have all reported stronger shipments in recent months, often led by electronics. South Korea on Monday reported April exports rose 24.2 percent on-year, the fastest since August 2011.
Global stock market investors are also cashing in on the so-called electronics "super-cycle".
Samsung Electronics <005930.KS> gained as much as 2.0 percent on Tuesday, helping to lift the country's Kospi index <.KS11> to within reach of its all-time high marked in 2011.
Taiwan Semiconductor Manufacturing Co (TSMC) <2330.TW> hit a record high, rising as much as 2.3 percent.
In other parts of Asia, manufacturing activity hit a 10-month high in Indonesia and expanded for the first time in two years in Malaysia.
In India, the activity expanded for a fourth consecutive month in April, helped by stronger growth in new orders.
Japan's manufacturing also expanded at a stronger pace last month, according to a revised survey on Monday.
(Reporting by Rajesh Kumar Singh; Editing by Kim Coghill)