TAIPEI — The big three chipmakers — Intel, Samsung and TSMC — are likely to increase capital expenditures during the second half of this year while the rest of the semiconductor industry tightens the belt, according to a market research firm.
The top-three companies will probably spend $20 billion for capex, representing a 90 percent increase from the first half of 2016, IC Insights said in a report emailed to EE Times on August 4. The companies will need to boost spending later this year to meet full year capex targets, according to the Scottsdale, Arizona-based company.
"In contrast to the 'Big 3' spenders, capital outlays by the rest of the semiconductor suppliers are forecast to shrink by 16 percent in the second half of this year as compared to the first half," the IC Insights report said. "In total, 2016 second-half semiconductor industry capital spending is expected to be up 20 percent over first-half 2016 outlays, setting up a busy period for semiconductor equipment suppliers through the end of this year."
The boost in spending is likely to widen the technology gap between the big three chipmakers and their smaller competitors. Samsung, Intel and TSMC are so far the only semiconductor companies to have announced plans to ramp up production of geometries in the 10nm range and adopt EUV lithography in the next few years.
Combined, the big three spenders are forecast to account for 45 percent of the total semiconductor industry outlays this year, according to IC Insights. A table of each company's actual spending during the first half this year and IC Insight's capex forecast is as follows: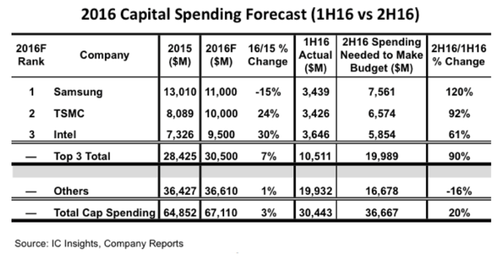 In total, IC Insights forecasts that semiconductor industry capital spending will increase by only 3% this year after declining by 2% in 2015.
With many chipmakers moving to fab-lite business models and continued growth in fabless companies, wafer foundries have gone from representing just 12% of total industry capex spending in 2008 to what is expected to be 34% of worldwide capital outlays in 2016,according to IC Insights.  Flash memory is the second largest industry segment for capex, projected to account for about 16% ($15.7 billion) of the total expenditures in 2016, the company added.
—Alan Patterson covers the semiconductor industry for EE Times. He is based in Taiwan.