by Elaine Chan
The third instalment of a series on China's hi-tech industry development master plan looks at semiconductors, and how the country's rapid embrace of new technologies could help it close the gap with advanced makers
A year ago, Chinese government departments across the country received an order from the general office of the Communist Party to hand in a timeline detailing how soon they could replace existing computer hardware and software programmes with domestic substitutes.
Under the guise of ensuring information security, the central government's intent was to reduce use of computers, servers, semiconductor chips and software made by Western firms, as it looked to build its own core technologies, lessen its dependency on imports and become a big player on the global tech stage.
That vision of global leadership to match the country's economic might emerged in 2015 when the government unveiled its "Made in China 2025" (MIC2025) plan. At the heart of the plan is the country's semiconductor industry, in part because advances in chip technology can lead to breakthroughs in other areas of technology, handing the advantage to whoever has the best chips – an advantage that currently is out of Beijing's reach.
"The US controls the most important core technologies," said Roger Sheng, an analyst at research firm Gartner. "The standards are all in the hands of the US, which means it controls the upstream and downstream segments of the industry chain," he said, referring to the entire process of making a chip, from design and manufacturing to consumption by end users.
"The first step is to see if they can compete with Korea and Taiwan, then slowly see if they can compete with the US. Competing with the US is not a one-day or two-day matter."
Mainland China's huge manufacturing industry makes it the world's biggest consumer of chips – the "brains" that power everything from electrical appliances and smartphones to the most sophisticated super computers and driverless cars.
'Made in China 2025': the Guangzhou start-up aiming big in semiconductors
Yet the country has to buy most of its chips, as it only makes 16 per cent of what is used domestically. It spent US$260 billion on chip imports last year, more than the US$162 billion that went on crude oil, a commodity that was seen for years as a source of strategic frailty for China because of its dependence on foreign supplies.
Now that sense of frailty has been transferred to the chip industry, spurring renewed efforts to build a domestic alternative. And there are signs that a shift in the tech landscape, as China embraces all things digital and pushes into new areas such as artificial intelligence, could help it towards that goal.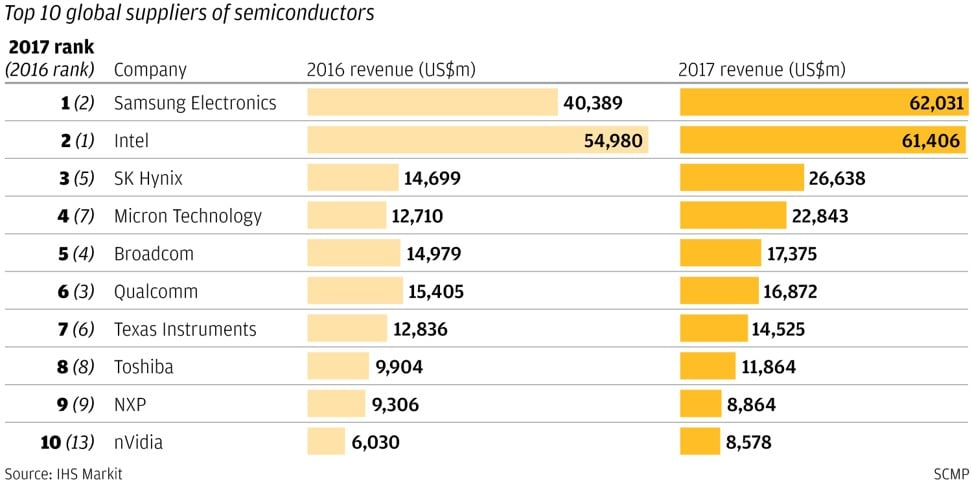 China has in fact been trying to develop its chip industry for a number of years, even before the MIC2025 plan.
It has poured in billions of dollars of subsidies, grants and investments, but progress has been slow. There is no equivalent of US giant and chip pioneer Intel, or South Korea's Samsung Electronics and SK Hynix, which design and make their own chips. China's biggest player, Semiconductor Manufacturing International Corporation (SMIC), makes chips to order for other companies, but lags behind the advanced technology of the global leader in such contract production, Taiwan-based TSMC.
SMIC uses what is called 28-nanometre process technology, which refers to the size, in billionths of a metre, of the circuits on a chip. TSMC is preparing to make 5nm chips by 2020 with 3nm chips planned for 2022. Intel is working on 10nm technology.
The smaller the circuits, the smaller and more powerful the chips – and consequently the gadgets they power – can be.
Under MIC2025, China aims to meet 70 per cent of domestic chip demand with home-grown products, but, according to leading industry official Ding Wenwu, the industry has three shortcomings: a semiconductor trade deficit of US$66.9 billion; heavy reliance on foreign core technologies such as central processing units (CPU) for computers, and a 10-fold difference in operational scale between SMIC and the world leaders.
Ding is president of the National Integrated Circuits Industry Fund, which was established in 2014 to build up manufacturing processes and help companies acquire assets internationally.
The fund – spearheaded by the finance and industry and information technology ministries and funded by leading state institutions like the China Development Bank Capital and China Mobile – has invested more than 81.8 billion yuan (US$11.9 billion) in 67 projects involving firms including telecoms equipment firm ZTE, SMIC and another chip maker, Huahong Semiconductor.
At the same time, a new generation of Chinese firms is grasping for opportunities in more specialised areas of the semiconductor industry where there is less ground to make up, and even a chance to take the lead.
China's vast domestic market is rapidly embracing smart living through the "internet of things" – the name given to the connection of the internet to physical devices – and connected workplaces, homes and smart devices. The government is also heavily promoting artificial intelligence, an area it wants the country to take the global lead in.
These areas require different types of chips. For example, there is the system-on-chip that includes not only a CPU, but often a graphics processing unit, RAM memory, ROM memory and a communications modem to connect to the internet of things and devices.
There are also field-programmable gate array (FPGA) chips – which can be programmed after they are made – as well as neural network processors, which can "learn" and are used in artificial intelligence.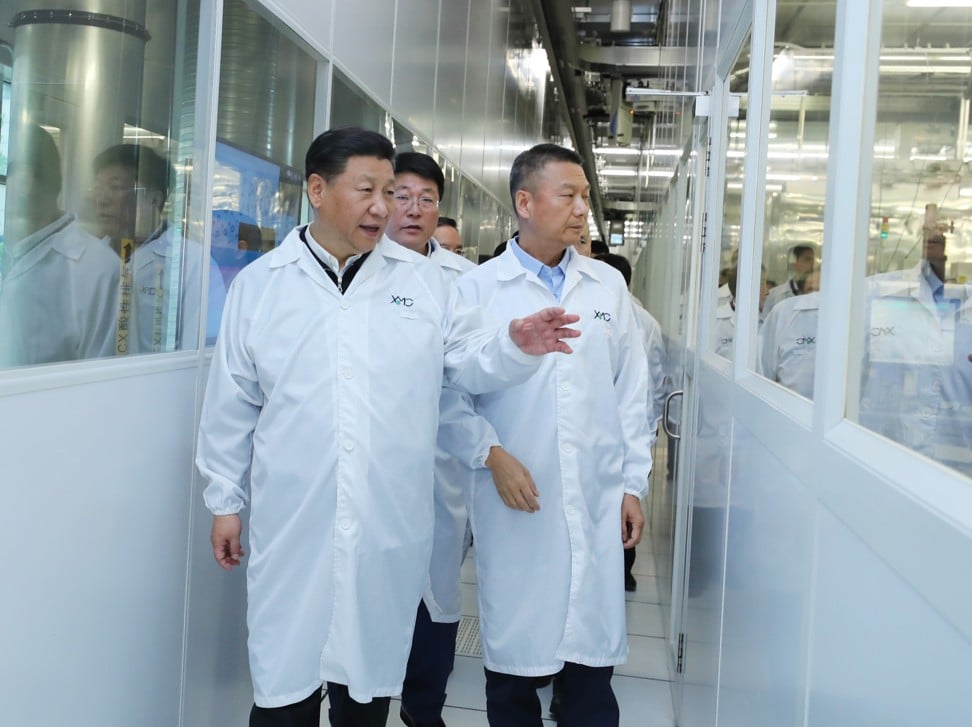 "China has built up a large electronics ecosystem. Chinese firms are making over 40 per cent of global smartphone sales, and have strong positions in PCs, tablets, notebooks, and many other devices. Innovative electronics are increasingly being conceived of and developed in China, like the consumer drone," said Dan Wang, technology analyst at research house Gavekal Dragonomics.
China's smart-home market, for example, is expected to reach US$7 billion this year, and will show an annual growth rate of 38.7 per cent to reach US$26 billion by 2022, according to online research firm Statista.
China's long march for the soul of the nation's digital future faces an ever-shifting end point
Although it is less than half the volume of the US market, which is the world's biggest, China's smart-home technology penetration rate of 4.9 per cent means enormous growth potential and opportunities for nimble firms.
"The CPU [segment] comes with a legacy and baggage … specialised chips provide opportunities for start-ups like ours," said Barry Tam, marketing director of Intellifusion, a Shenzhen-based AI firm. He said that once the playing field was level, China would be in a better position to gather the technologies, skills and talent to advance the domestic semiconductor industry, including into the development of mainstream chips.
Tam estimated that specialised chips currently made up around 1 per cent of China's overall chip market.
Big companies from other industries are also taking note of the potential as technology penetrates ever wider areas of life. E-commerce giant Alibaba Group Holding, which has moved aggressively into big data and AI, expects to launch its first neural network chip in April next year, and is developing smart chips for an internet of things infrastructure as well as for areas such as self-driving cars.
The company, which also owns the South China Morning Post, bought a Chinese chip design firm in April, one of five investments in the sector in four years.
"We are still some distance away compared to developed countries [in chip technology], but in the internet of things era we can catch up," co-founder and executive chairman Jack Ma told the Alibaba Computing Conference last week. Huawei Technologies, the world's largest telecoms equipment maker, is also working on specialised chips, and unveiled a 7nm system-on-chip product in late August.
'Made in China 2025': is Beijing's plan for hi-tech dominance as big a threat as the West thinks it is
"China has plenty of development opportunities, the market is deep … China is the manufacturing hub and a big market for smart devices," said Wang Huixuan, co-president of one of China's top three smartphone chip makers, Tsinghua Unigroup, at a technology forum in Beijing in August.
Tsinghua Unigroup, the National Integrated Circuits Industry Fund and the Hubei provincial government, have together put up US$24 billion to establish Yangtze Memory Technologies, which last November unveiled a 32-layer 3D NAND flash memory chip. NAND chips can store data without being powered, and are increasingly used in portable devices such as laptops.
Yangtze Memory said recently it was developing a 64-layer NAND chip, which puts it not far behind global leaders Samsung, Hynix and Micron of the US, which are currently developing 72-layer NAND chips.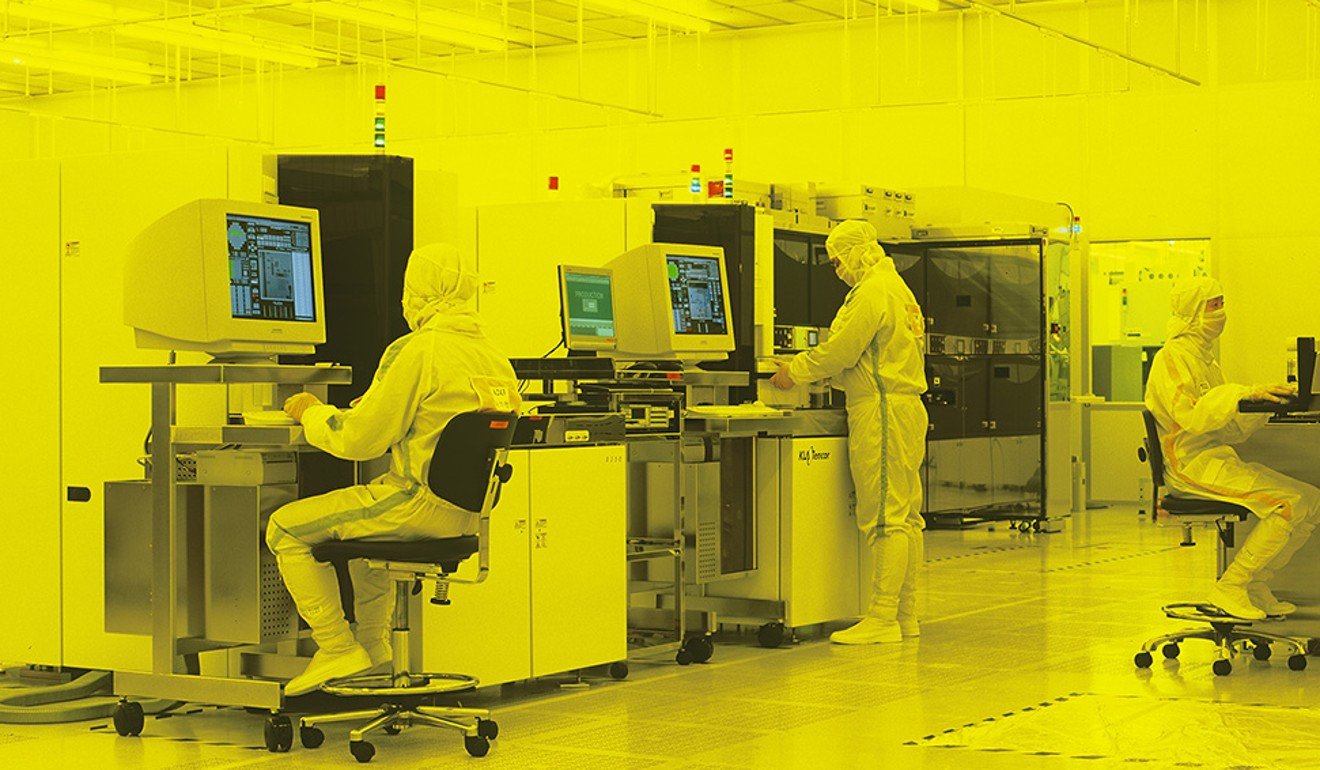 As China looks to find its niche, however, political tensions with the US over its efforts via the MIC2025 plan have erupted into a trade war. In US eyes, the plan smacks of unfair government interference in industry that disadvantages US firms and seeks to exclude them from the market.
Semiconductors are particularly sensitive as the industry occupies a central place in the US view of its own national prowess, and the country worries that its dominance is under threat.
The US government has blocked several Chinese attempts to take over American and European chip companies over the last few years, and earlier this year showed the harm it can do to Chinese industries by banning ZTE from buying American technology for seven years after it found that ZTE had violated US sanctions on doing business with Iran and North Korea.
The ban was later dropped, but had briefly threatened to to put ZTE – China's second-biggest telecommunications company – out of business, and served as a rude reminder of China's vulnerabilities in the hi-tech sphere.
"Since China has been subject to US export controls in the past, it wants to make sure that its large electronics sector will not be subject to politically imposed supply shocks," said Gavekal's Wang.
Even as China ramps up its semiconductor industry, however, the reliance on foreign technologies will not go away completely.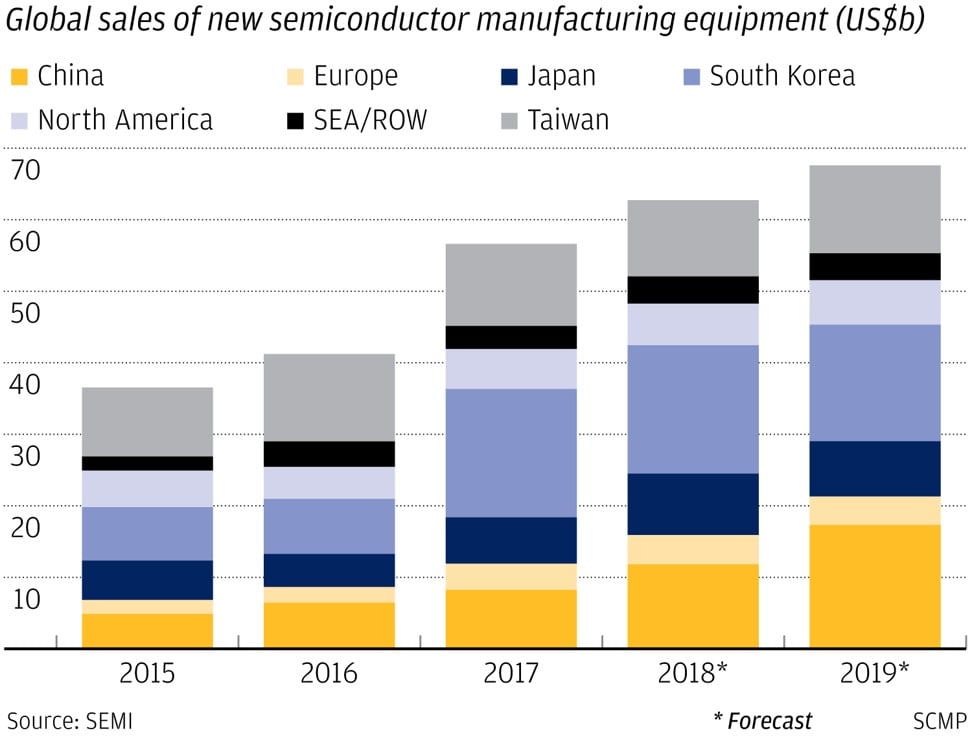 At least 46 big-budget semiconductor projects – a number of them with foreign interests – are planned in China for the next three years, including two in Guangzhou with a combined investment of US$2.9 billion, according to China Daily.
But for those projects to be able to make their chips, China will have to import equipment from foreign suppliers, including Netherlands-based ASML and Japan's Tokyo Electron, which dominate the market for the sophisticated machinery used to create chips. For US market leader Applied Materials, for example, sales of semiconductor tools to China accounted for 25 per cent of total revenue in the quarter ended April 2018.
Sales of equipment for making semiconductors to China are expected to reach US$11.8 billion this year, rising 43 per cent from 2017 and making the country the world's second-largest market, according to SEMI, the global microchip industry association.
'Made In China 2025': a peek at the robot revolution under way in the hub of the 'world's factory'
Meanwhile, at one of the government offices which received the order to replace foreign equipment, staff continued to work with computers running on imported chips and Microsoft software.
"It is impossible to replace them with Chinese products in the near term – anyone with basic computer science knowledge would understand," said an official who declined to be named because the matter was sensitive.
He said he had submitted to his supervisors a zero per cent short-term target for conversion.
"If the order is enforced, we will just buy the Chinese-made computers and lock them up in storage, because there is no way they can handle the software we now rely on every day," he said.
Additional reporting by Sarah Dai, Xie Yu and Liu Yujing