By Tim Krohn tkrohn@mankatofreepress.com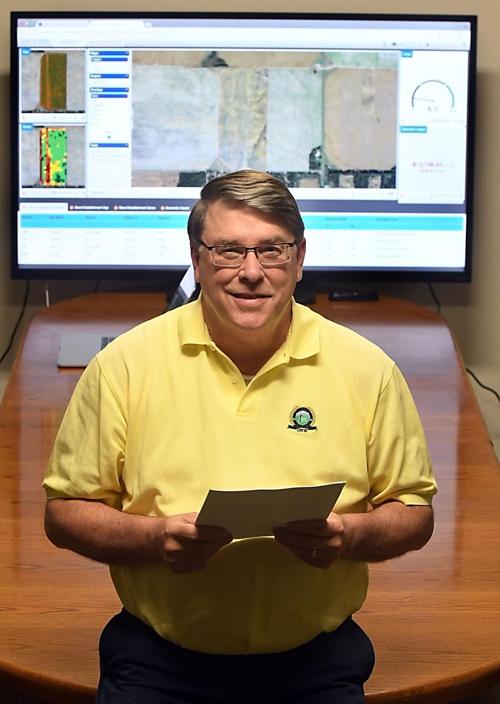 MANKATO — A Mankato start-up that is delving deep into the growing stream of data from satellites and drones is making a big splash not just in the agriculture community but in the world of "big data" and Silicone Valley.
Jerry Johnson, who founded Aglytix a few years ago, said they're working more with international companies and major ag and technology companies.
A recent online story by Bill Schmarzo, the chief technology officer of the Big Data Practice of EMC Global Services, was headlined "Heart of the Data Science Revolution … Mankato, MN?"
Schmarzo, known as the "Dean of Big Data," has a strong following.
"It's been helpful," Johnson said of the story. "Being in the Midwest it's hard to get your name out to the rest of the country and Silicon Valley. It's opened doors for us. He's a big deal and speaks all over the country."
(To read Schmarzo's full story go to infocus.emc.com and then search for "Mankato.")
Schmarzo said Aglytix is taking just the right approach to using big data to provide a valuable service that creates a marketable products.
The democratization of analytics driven by economics of big data is enabling small communities and small businesses to thrive and compete against much larger and better-financed organizations.
He said organizations don't fail at big data because of a lack of opportunities but because they have too many.
"That's one of my most important messages, and Aglytix has taken it to heart," he wrote. "Aglytix has focused on one use case at a time to build out its suite of lean farming analytics. For example: quantifying the impact of crop stress. Crop stress decreases yield by inhibiting crop growth and decreasing the maximum potential crop yield. Crop stress is caused by factors such as diseases, insects, drought, and salinity and excesses of trace elements in the soil."
Johnson started the business when drones began being used to fly over farm fields and gather a host of video and other information. He and his 15 employees, based on North Riverfront Drive, provide the analysis of the data to a wide variety of agriculture companies that serve farmers.
"We do analytics on (crop) stands, weeds, crop health and a lot more. We're dong a lot more analytics and growing a library."
The library is a mathematical algorithm that provides the results of farmers' data. "It's like a doctor who can order several different tests and get the analysis back. We want to be like that with our library to give the analysis back to farmers on a lot of different things. Farmers have given us a list of about 200 analytics that we'd like to work on," Johnson said.
"The data is getting better, there's more satellites in space, there's more companies and more connected data than before. They're not competitors, they're just another layer of data for us."
Johnson said they're in a unique position to take advantage of the growth in precision agriculture through the use of big data.
"There's a lot of people in Silicon Valley and elsewhere that want to be in agriculture. It's a growing area — we're going to need more food in the future. But they really don't have a lot of knowledge about agriculture."
The company's start-up was funded through individual investments from local friends and family, but Johnson said bigger institutional investments will be needed. "Its been pretty much homegrown. In order for the company to achieve what it could, we need to raise more investments."
While located in the middle of the Corn Belt, Johnson notes that domestic farmers are a minority of potential crop customers.
"We're getting calls from Ukraine, India, South America. People forget that agriculture is really an international business. Only one-fifth of corn is grown in the the U.S. We'd like to be a major player, not just a small local."
http://www.mankatofreepress.com/news/mankato-s-aglytix-touted-as-big-data-center/article_014c3100-803b-11e7-afd9-f34fd3644b75.html